"009 RE:CYBORG" New Years Holiday Special Present Campaign!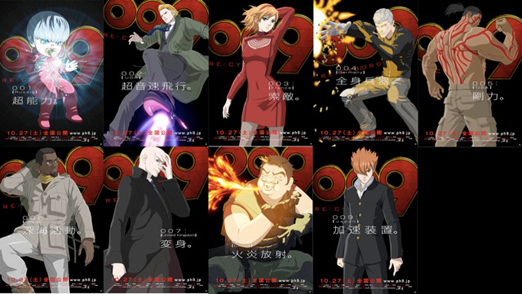 Customers viewing "009 RE:CYBORG" at selected theaters from December 29th ~ January 6th will have a chance to win 00 Number Cyborg Poster that comes in 9 different variations! These posters are not for sale and can only be found at these theaters.
1 winner will be selected randomly from each screening at each theaters.
Lucky winners of the lottery will be announced on January 7th at each theater's home page.
The ticket stub can be exchanged for the prizes at the information booth of the movie theater you used.
Please be noted that the ticket stub purchased during the campaign period will be required when picking up your prizes.
Campaign Period: December 29th ~ January 6th
Announcement of Lottery Winner: January 7th ※Announcement will be made at the theater homepage
Present Exchange Period: January 7th ~ 18th
※Please keep your tickets in safe places until the lottery announcement date as they will become invalid once lost.
Customer may draw lots 1 time for each viewing and can win more than once if they watched the movie multiple times.
Please also be noted that posters are handed out randomly and cannot be selected.
Selected Theaters

Shinjuku Wald 9
Yokohama Burg 13
Umeda Burg 7
T-Joy Hakata
T-Joy Soga
T-Joy Kyoto
Hiroshima Wald 11
T-Joy Oita
Kagoshima Mitte 10
ufotable CINEMA
2012.12.27