009 RE: CYBORG vs So Takei - Best-of-Nine Dream Match Contest at Osaka Umeda E-MA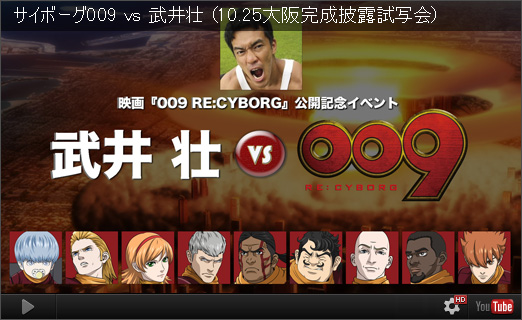 So Takei (former Japanese Decathlon champion) is a man who possess the ability to "fight imaginative ferocious beasts" and aims to become the king of beasts! He now challenges the 00 Number Cyborgs to a "special ability" battle!
So Takei, now invincible through his beast simulation training has picked the 9 cyborg warriors as his next opponent! At the Osaka test screening on October 25th, an epic battle with the cyborg warriors shall unfold (in his mind)!
Battle date: October 25th (Thurs.) 16:40 (JST)~
Battle location: Osaka Umeda E-MA Bldg
1st Stage 16:40 (JST)- (Approximately 20 mins) E-MA Bldg 1F Lobby (Free-For-All)

Ivan Whisky, Jet Link, Françoise Arnoul vs So Takei
2nd Stage 17:45 (JST)- (Approximately 15 mins) Umeda Burg 7 Lobby (Free-For-All)

Albert Heinrich, Geronimo Junior, Chang Changku vs So Takei
3rd Stage 18:30 (JST)- Test Screening Stadium※Tickets for test screening are required

Great Britain, Pyunma, Joe Shimamura vs So Takei
Recorded videos of this fierce fight is scheduled to be available on Youtube for 9 days starting from October 29th (Mon.)!
So Takei (武井 壮)

Former Japanese Decathlon champion. He holds the highest Japanese record for the 100m with "10 sec 54". Starting this October he will also be the new regular for the TV show "Waratte Iitomo" and is said to be the busiest man at this time.
He also claims to be the No.1 "009" fan in the entertainment industry.

2012.10.22